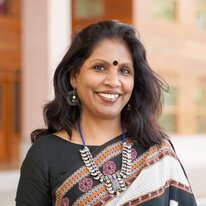 PROF. RADHIKA LOBO
School of Business Studies,
Vidyashilp University
Prof. Radhika Lobo is an award-winning researcher and academician with over 3 decades of experience. She holds a Ph.D and an M.Phil in Economics and has held leadership positions in academic administration. Prof. Lobo was deputed as an Exchange Faculty at the University of West Georgia and Clayton Business School, in the US. She has also been Visiting Faculty at several B-Schools including, NMIMS, Mumbai; Asia Graduate School of Business, Hyderabad and BIMTECH, Noida.
As a guest speaker at National and International Universities, she has spoken on topics related to the Indian Economy, International Economics and the Financial Crisis.
Prof. Lobo has published a book titled Southeast Asian Crisis: An Economic Analysis, and several research papers across reputed journals.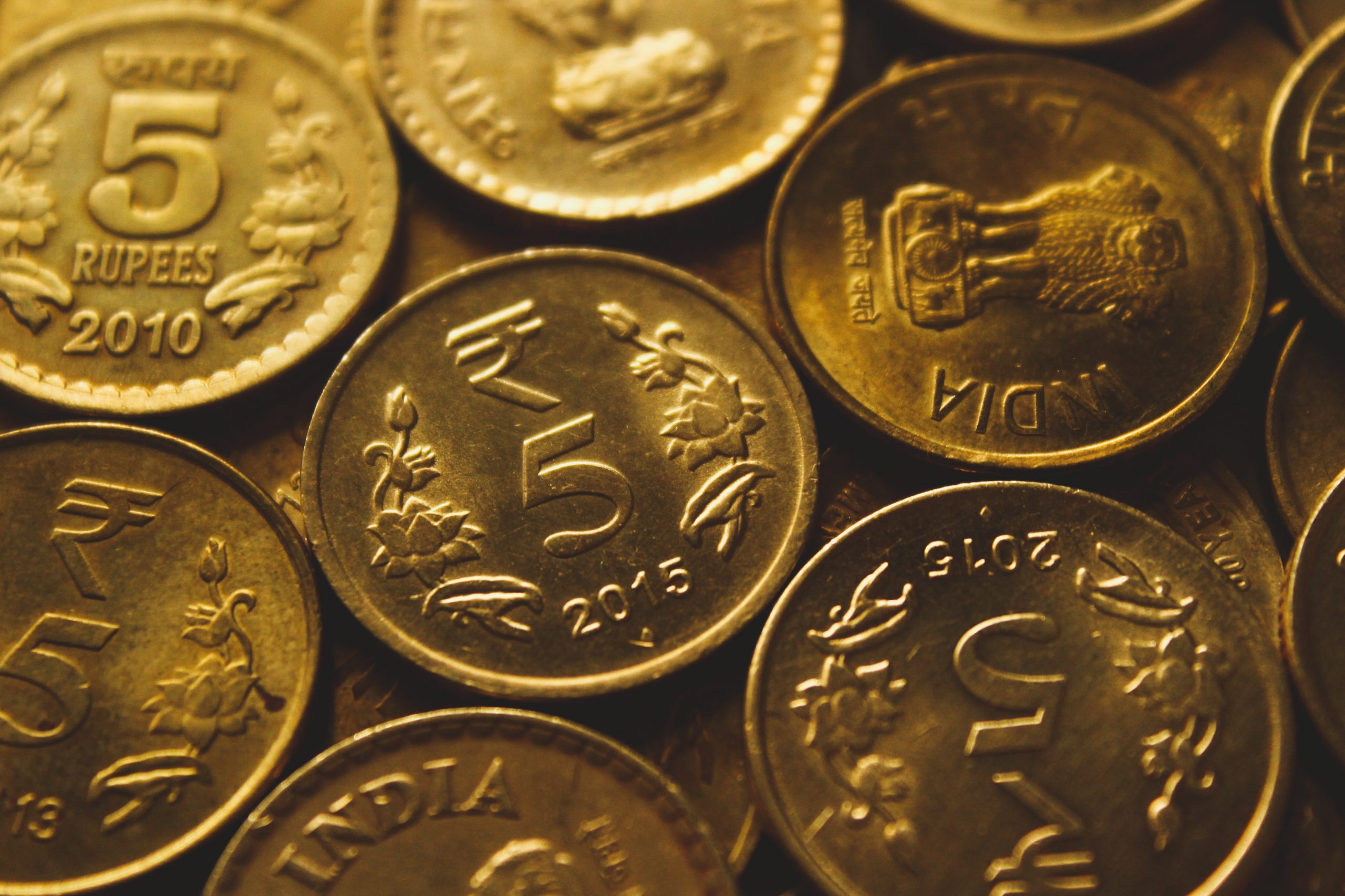 The study of economics helps individuals, firms and governments to decide how to allocate the resources available to them. A student has a constant struggle between using the pocket money to either buy an e-book needed for a project or to spend it on watching a film in the theatre with friends. Firms and businesses need to decide whether to use the funds they have for market expansion or expand their product line. Likewise, governments are faced with the dilemma whether they must use the tax revenue for strengthening the military or produce goods for civilian consumption. The final decision made between these choices and several others available, depends on human behavior.
Economics has application in day-to-day life and hence imparts the domain knowledge needed to pursue a career in a related area. So let's try and understand what the subject area of economics covers and what its applications area. Considering that the ongoing pandemic has affected every individual, business and government, it may be relevant to look at the subject matter of economics and its application given this situation.
ECONOMICS HAS APPLICATION IN DAY-TO DAY LIFE AND HENCE IMPARTS THE DOMAIN KNOWLEDGE NEEDED TO PURSUE A CAREER IN A RELATED AREA.
ECONOMICS AS A KNOWLEDGE DOMAIN
The subject area of economics is generally categorized into microeconomics and macroeconomics. Microeconomics brings out the reasons why a product or service has high demand; the factors that affect its supply; how the interactions between these determine the price, and also how the markets in which these operations are conducted have a bearing on the same.
Suppose that you need to write an examination in another town and that the same is unavailable online, you will demand a flight ticket. Fewer flights may be available given the pandemic and hence the price of the ticket may be much higher than under normal circumstances. Further, if, the section that you are flying is serviced by only two or three airlines, that is, you are faced with an oligopolistic market; it will be difficult for you to find cheaper options. In this situation, if you are on the other side of the table, say, the manager of the airline firm, you will do well to offer tickets at the higher market price, but provide additional services like hygienically packed food, quick and online contactless check-in services, a discount for those who do not have a check in baggage etc. In short, your firm can compete on the non price aspects and secure more business for your itself!
What are the aggregate production, consumption, savings and investment of the economy? These are aspects that macroeconomics deals with. The pandemic has caused the Gross Domestic Product to plummet and has caused a slowdown of the world economy. Economists in the given scenario are offering solutions to boost the economy through monetary and fiscal policy measures. For instance in the UK, fiscal measures such as tax deferrals and tax reductions have been undertaken so that businesses can have liquidity in the current time period and use it to reinvest into their businesses. To ensure that unemployment is minimal, measures like Job Retention Scheme, State Compensation Schemes, training etc have been introduced. In India, the monetary authorities lowered the interest rate as an effort to increase investment. The finance minister has allocated Rs 2,83,846 lakh crore for health care in the budget of 2021. Monetary Economics and Public Economics are areas that provide theoretical and practical solutions to real world problems.
MATHEMATICS AND STATISTICS IN ECONOMICS
Economists use mathematical and statistical tools to strengthen their analytical and critical thinking ability. These tools enable economists to arrive at the correct conclusions and therefore help in the formulation of accurate policies. For instance the degree of correlation between say poverty and increased crime or inflation and unemployment will help the government decide the allocation to be made for employment generation schemes, poverty alleviation programmes etc. Mathematical Economics, Statistics for Economics and Econometrics are some of the subject areas in economics used extensively for these purposes. The COVID 19 pandemic has directly caused losses to the tourism industry. But the same has also affected the income and employment in related sectors like transport, food, retail and entertainment.
To estimate the correct monetary impact of the same, econometric modeling techniques are used. The same will enable the government to direct expenditure and policies to these sectors rather than others and thus ensure a quicker recovery.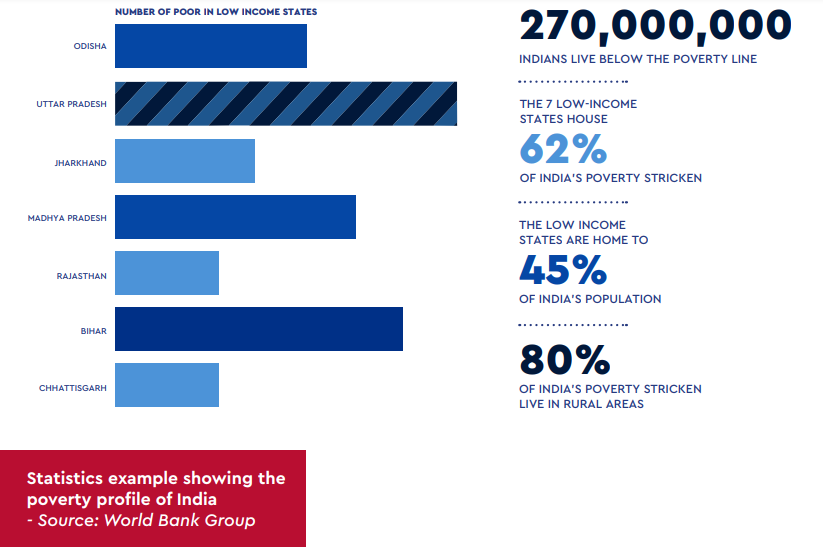 ECONOMICS OF GROWTH AND DEVELOPMENT
The World Bank classifies economies into developed, developing, less developed economies, newly emerging economies and high income developing economies. There are various theories that purport why and how growth and development have taken place in these groups of countries as well as account for the uneven growth in different groups of countries. All this and more is studied under the area of Economics of Growth and Development or Developmental Economics. Here the focus is on improving the social conditions in developing countries through better health, education, and market conditions. Generally, the government makes budgetary allocations for these aspects and even borrows if need be for the same. In recent times, some of these expenditures have been funded through Corporate Social Responsibility. The pandemic has disrupted lives in all countries across the globe, causing the global GDP to contract by 3.5% in 2020, the worst since the Great Depression of 1930s. However, the PwC's 24th Annual Global CEO Survey Report suggests that 76% of them expect the economies across the globe to bounce back. The reason for their optimism is that all countries are trying to focus on cooperation, fast and high quality decision making and trying to push aside political differences. The larger economic and social benefits of cooperation and economic integration are being revisited. Inclusive models of development are being practiced. Within the ambit of inclusive growth and development are Environmental Economics and Gender Economics. The former deals with economic activities that cause environmental damage or degradation; policies and institutional measures that needs to be in place to contain it.
The latter highlights the gender gaps that exist -wage differentials, employment opportunities, unpaid work performed by women etc. The pandemic has brought to the fore several studies that have brought out the need for the government to promulgate laws and policies to safeguard the economic status of women.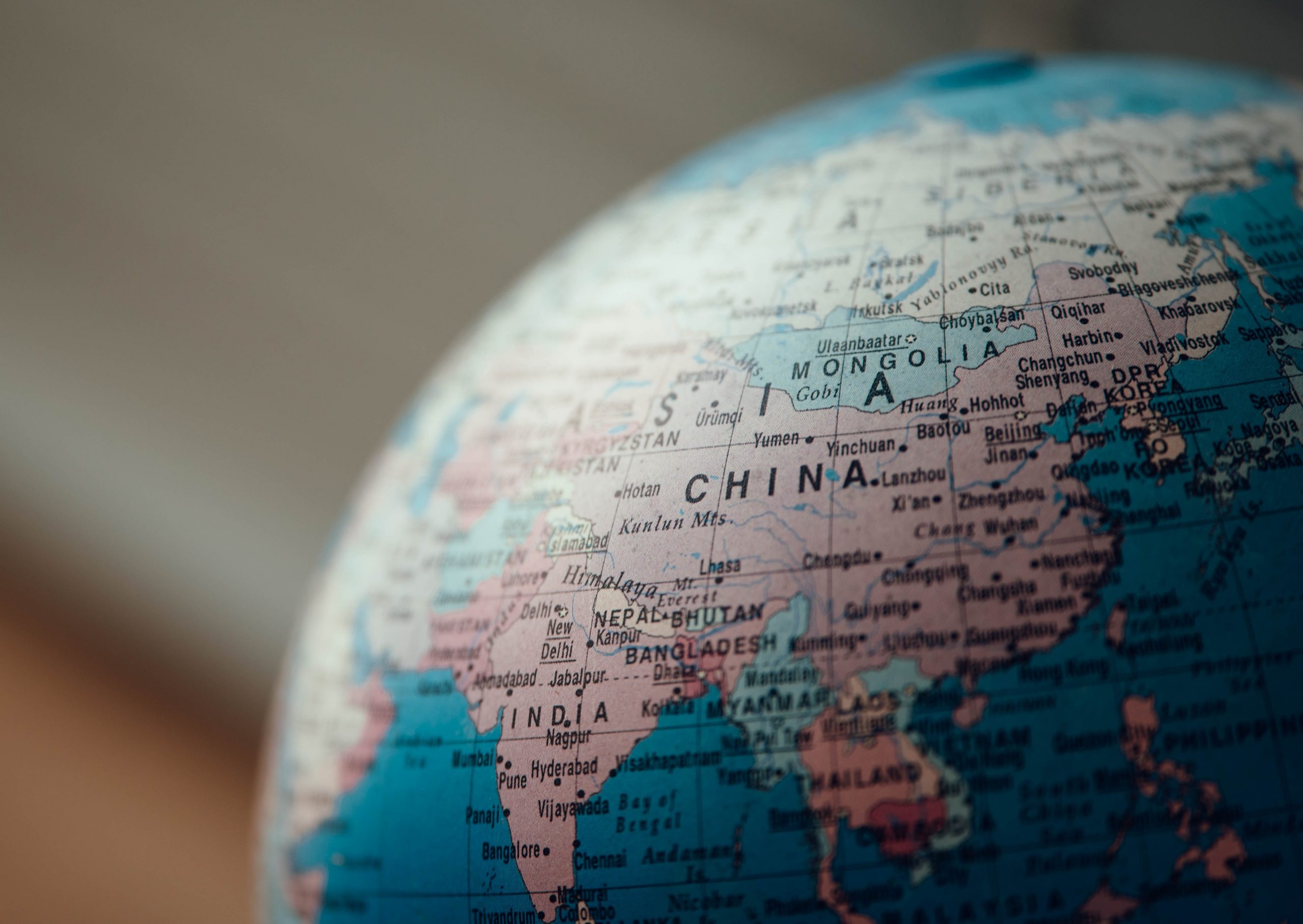 ECONOMICS AND DIGITIZATION
The digital acceleration induced economic growth has brought in several benefits to businesses and the economy. The growth of businesses in core digital sectors like IT and business process management, digital communication services, and electronics manufacturing, that are data driven, hardly need to be overemphasized. Digitization has enabled the other sectors like financial sector, health care, education, too to grow in a big way. From this has emerged a new area of study, namely
Digital Economics.
While the pandemic has been a disrupter in more than one way, it cannot be denied that it has further accelerated digital businesses and usage of digitization in economic activity.
Payment systems have moved in a big way to the digital platform, teaching, learning and evaluation even in rural India is getting adapted to the new normal, doctors are providing tele-consultation to COVID infected patients and retail businesses have increased their operations and turnover multifold. All these economic activity have amplified and been augmented on account of the pandemic and digitization.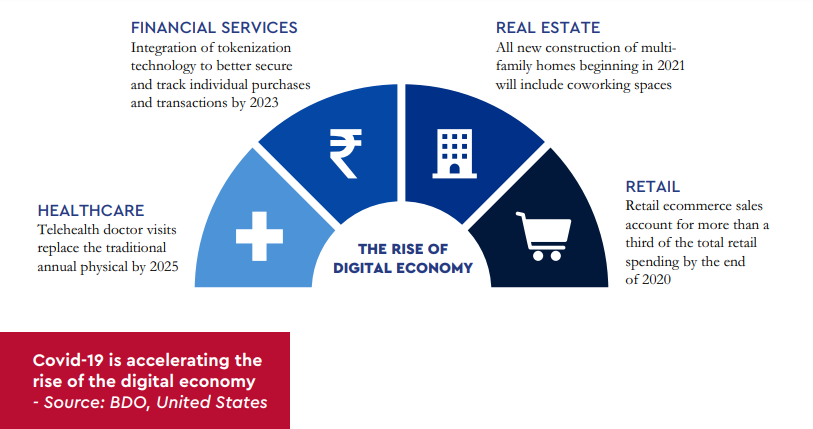 THE FOCUS IS ON IMPROVING THE SOCIAL CONDITIONS IN DEVELOPING COUTRIES THROUGH
BETTER HEALTH, EDUCATION, AND MARKET CONDITIONS.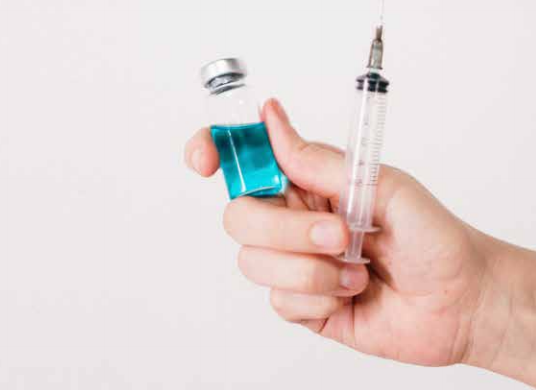 INTERNATIONAL TRADE IS CONSIDERED TO BE THE ENGINE OF ECONOMIC GROWTH.
INTERNATIONAL TRADE AND THE PANDEMIC
Adam Smith, the father of political economy had propounded the Classical Theory of International Trade and prescribed that a country should specialize in and export that commodity in the production of which it enjoys a cost advantage and by the reverse logic import that commodity in which it has a cost disadvantage. The branch of economics that deals with theories of trade, forms of economic integration, types of trade policies practiced across the world and the effect of exchange rates on trade is called International Economics. International trade is considered to be the engine of economic growth. The World Trade Organization predicted in April 2020 that the world merchandise trade would drop between 13% to 32%. However, WTO revised the prediction by January 2021 and estimated a drop of 9.2 % in the merchandise trade. This improvement occurred on account of pandemic induced trade in goods like masks, gloves, PPE kits, ventilators, oxygen and vaccines. No wonder the world economy is bouncing back faster than predicted.
WHAT AN ECONOMICS DEGREE IS WORTH?
The
study of economics
empowers you with an understanding of how decisions by individuals, businesses and governments affect our lives. An economics degree provides mathematical and statistical skills that can be applied to problems in business and government. It helps in comprehending the practices adopted by developed countries and therefore provides a road map for development. Inclusive growth is the new mantra these days and rightly so. Several areas in the study of economics delve into these aspects and equip the students with the wherewithal to both measure the extent of the inequalities and find solutions to them. The digitization process has opened out several opportunities for economic activities, within as well as across national boundaries. The understanding of the working of trade, foreign exchange markets and international capital flows opens out a plethora of opportunities for students in a globalised world. These and more are available to economics students to explore.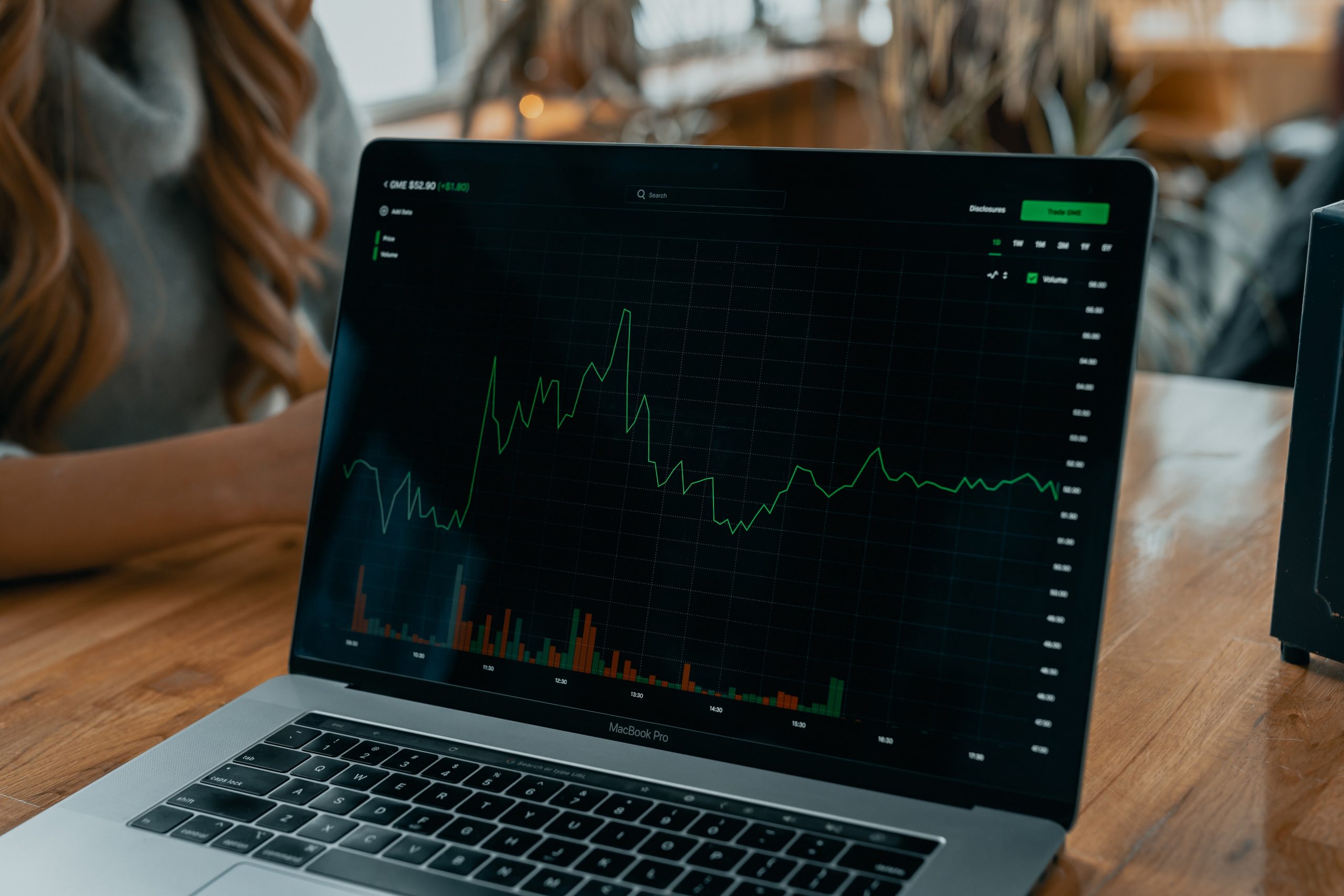 AN ECONOMICS DEGREE PROVIDES MATHEMATICAL AND STATISTICAL SKILLS THAT CAN BE APPLIED TO PROBLEMS IN BUSINESS AND GOVERNMENT.