Bachelor of Design

(Communication Design)
The B Des Program at Vidyashilp University unfolds the canvas of Communication Design with six themes or tracks throughout the curriculum:
Critical and Planetary Citizenship
Analyzing and Interpreting Content
Creating Content
Design & Visuality Science
Design & Visuality Methods
Integrative Projects & Studios
The Integrative Design Project / Studio involves students taking on a substantive design challenge or opportunity from concept to final product / outcome, thus building up a significant portfolio. The B Des curriculum is built in a progressive manner, introducing the student to increasing degrees of complexity and sophistication in terms of ideas and problems, and correspondingly raising the level of challenge in the Integrative Design Studio / Projects successively.
Major:  Communication Design
Minor:  Data Science
    Economics
    Marketing
    Psychology
    Finance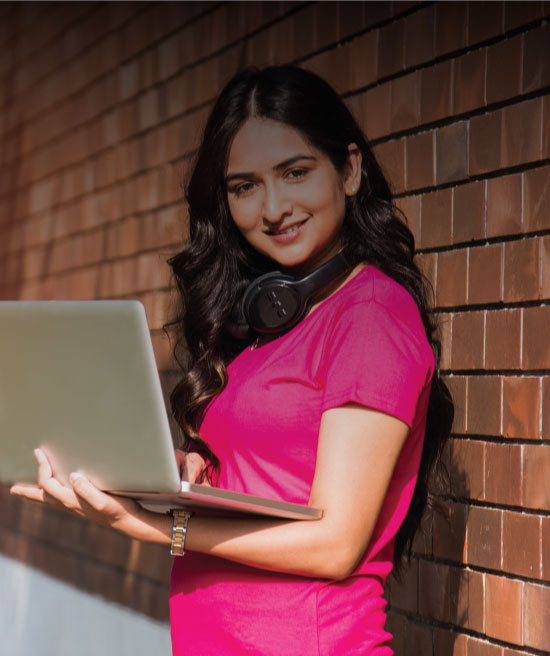 B.Des
Exclusive focus on Communication Design
Vidyashilp University's B.Des program in Communication Design is a new offering combining some of the classic elements of Graphics and Visual Communication Design along with new-age and future-oriented inputs in Digital Design and Content Creation. This would become a core qualification for creators seeking employment or entrepreneurship in the online media and content industry
Emphasis on research
The B.Des program at Vidyashilp University is distinctive from the courses offered at other B.Des colleges in Bangalore for its combined emphasis on the research and scholarly aspect, as on the practical and technical mastery. This means that both, academically-minded as well as practice-minded students can find this rewarding and fulfilling.
Interdisciplinary approach to Design
The minors of Marketing and Entrepreneurship are collaboratively offered by the School of Business Studies, Psychology by the School of Liberal Arts & Design Studies, and Data Science by the School of Computational and Data Sciences. Each Minor has a mandatory Integrative Project - to bring together the major and minor domains. This helps B.Des graduates understand the application of Communication Design, in-depth, in their chosen minor, which is different from other B.Des colleges in Bangalore.
---
---
Overview of Learning Methods
Speaking and Presentation Skills
Design Thinking and Problem Solving
Academic and Business Writing
Indian Society and Culture/Performing Arts/Sports
Personality and Leadership Skills
Critical Thinking
Social Engagement Experience
English Language
Environment & Sustainability Awareness
Professional Ethics and Human Values
Basics of Data Analysis
Practice of Mindfulness
Foundation Seminar
Representory & Exploratory Drawing
Story of Design, Communication & Media
Integrative Studio I - Design Thinking
Representation Tools & Techniques/Illustrating for Impact
Analysing & Visualising Data
Matching Content to Audience
Art and Media Appreciation
Integrative Studio II - Techniques
Design Major - Communication Design
Deconstructing & Designing Communication
Introducing Narrative & Storytelling
Content, Cognition & Metrics
Understanding Identity
Information Architecture & Design
Advanced Narrative & Storytelling
Ideology, Rhetoric & Persuasion
Narrative & Influence
Environmental Design/Communication
Education & Empowerment
Communication, Democracy & Law/Justice
Designing for Engagement
Facilitating Community Voice
Navigating Pluriversality
Integrative Project III - Publication/Web design
Integrative Project IV - Exhibition/Museum Design
Integrative Project V - Marketing/Advocacy Campaign
Integrative Project VI - Education/Training Program Design
Integrative Project VII - Systemic/Behaviour Change Design
A . User Experience (UX )Design
---
Fundamentals of UX Design
Research and Design Process Methods
Digital Experience
UX Design Project
Service Design
Design Ethnography
Mobile UX
Cognitive Psychology for Design
B . Design Research
---
Tools and Techniques for Design Research
Human Centred Design Methodologies
Service Design
Design Research Project
Data Visualization for Design
History of Modern Design
Translation Design Research
Design Ethnography
Cognitive Psychology for Design
Data Science
Introduction to Data Science
Data Analysis and Visualization
Data Science Project
Introduction to Machine Learning
Artificial Intelligence
Data Science for Psychologists
Data Science for Economics
Applications of Deep Learning
Economics
Introduction to Microeconomics
Introduction to Macroeconomics
Indian Economy
Intermediate Microeconomics
Intermediate Macroeconomics
Development Economics
Behavioural Economics
International Economics
Marketing
Principles of Business
Introduction to Digital Marketing
Consumer Behaviour
Services Marketing
Integrated Marketing Communications
Brand Management
Marketing Research
Digital Product Management
Psychology
Introduction to Psychology
Development of Psychological Thought
Biological Psychology
Cognitive Psychology
Developmental Psychology
Social Psychology
Clinical Psychology
Integrative Practicum
Finance
Managerial Economics
Financial Accounting
Financial Management
Essentials of Business Management
Financial Economics
Financial Services
Blockchain for Financial Services
Minor Project
The student may prefer to a accrue the required credits (minimum 24) by choosing a variety of courses from the prescribed open courses. Typically, Open courses must be taken from domains other than the chosen Major. For example, students of B.Tech Design may take courses from domains such as Data Science, Psychology, etc.
Internship/Capstone Project
12
Summer Training/Internship
Capstone Project and Industry Internship
Sample Careers
Graphic/Logo/Brand Designer
Visual Merchandising/Retail/Display/Packaging Designer
Corporate/Organizational Communications Designer
Content Creator/Marketer
Multimedia Illustrator/Artist
Digital Photo-Illustrator/Artist
Website Designer
Interaction (IX) Designer
User Interface (UI) Designer
Motion Designer/Animator/Video Creator
User Experience (UX) or Customer Experience (CX) Designer
Information Architect/Designer
Signage/Navigation/Wayfinding Designer
Exhibit/Museum Designer
Data Visualizer/Infographics Designer
Infographics Animator
Social Media Influencer
Game Designer
Digital Product/Application Designer
Sample Internships
Media / Journalism
YourStory
NewsLaundry
Education
Khabar Lahariya
Careers 360
Byju's
Centre for Environmental Education (CEE)
Research / Academics
Mongabay-India
Down To Earth (Magazine)
Centre for Pastoralism
Advertising / Marketing
Afaqs!
DesignUp
Ogilvy Interactive
Social Sector
India Development Review (IDR)
PARI (ruralindiaonline.org)
Quest Alliance
Corporate Communication
Foundation for Ecological Security (FES)
Azim Premji Foundation
Tech Writing
Mindtree (L&T)
Tata Elxsi
National/State Boards
10+2 pass (minimum 50%) from a recognised board
IB
IB Diploma or IB Certificate (minimum 24 points)
A Level
Minimum 3 subjects in the 'A' Level and 5 Passes in IGCSE/GCSE
Admission
Applicants ranking in the merit list will be invited for a Personal Interview.
CLICK HERE